ECUME DE MER version 1969
CARACTERISTIC TECHNIQUES
1969 model
Overall length.................... :7.90 m
Length of floating.............. : 5.90 m
Beam................................. : 2.65 m
Draught.............................. : 1.25/1.50 m
Weight ............................... : 1 900 kg
Ballast................................. :720 kg
Displacement..................... :1.800 kg
Height under deck-beam...: 1.72 m
Berths................................. : 6
Large veil........................... : 12 m²
Genois ............................... : 22 m²
Génois inter........................ : 17 m²
Jid of road.......................... : 12 m²
Tourmentin......................... : 6 m²
Spinnaker........................... : 50 m²
Rating without engine (HN): 170/140


Model version 1969
PALMARES

1968 Birth of the Ecume de Mer

1970 Winner Quarter Ton Cup

1972 Winner Quarter Ton Cup "Petite Fleur"

1973 Winner North América, "Dark Star" Quarter Ton Cup, 2nd Quarter Ton Cup

1975 1st Boat with being elected "Boat of the year"

1977 Winner of the EDHEC race "Petite Fleur"

1978 Boat of the 1st édition of the turn of France to the veil. (To see the article)

1984 Winner of the EDHEC race "Fugue"

1985 Arrival of a turn of the world realized in 5 years by Michel Martin. (To see the article)
Elected official boat of the year in 1977, l'Ecume de Mer is chosen by Bernard Decré for the first édition of the Tour of France to the veil in 1978. Resulting from the Mallard's building sites on plans of Jean-Marie Finot, this last is the architect in form of the moment with two titles of champion of the world of the Quarter Ton Cup. Robust and reliable, the Ecume de Mer is good walker in the breeze . Moreover it offers a pledge of security recognized, which is important in this first edition. its weak tiant of water will make it possible to cross France by the channel of idday (Canal du Midi). Four team-members embark on board . The anecdocte of Bernard Décré : " At the time, at the end of 1977, I wrote to the eight larger French manufacturers of sailing ships of cruising.. I did not have an answer! ... Finally, the manufacturer of Sea foam agree to accept my order. I bought 20 boats of a blow to him. It made me 8% of reduction. Royal! ".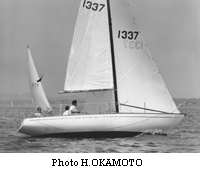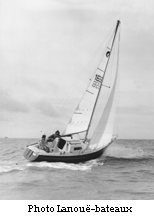 Created by Jean Marie FINOT and Laurent CORDELLE in 1968,
1335 Ecume de Mer specimens one built between 1968 and 1979 by the building site Roger MALLARD, rue des chantiers - 17000 LA ROCHELLE

50 specimens one also built in Japan by building site NJY.

1975 Model
CARACTERISTICS TECHNIQUES
1975 model
Overall length..................... :8.00 m
Length of floating............... : 5.90 m
Beam.................................. : 2.65 m
Draught............................... : 1.25/1.50m
Weight................................ : 1 900 kg
Ballast................................ :720 kg
Displacement.................... :1.800 kg
Height under deck-beam.. : 1.72 m
Berths................................. : 5
Large veil........................... : 12 m²
Génois ............................... : 22 m²
Génois inter........................ : 17 m²
Jid of road........................... : 12 m²
Tourmentin........................... : 6 m²
Spinnaker............................. : 50 m²
Rating without engine (HN).. : 170/140
Ecume de Mer Flushdeck model